Our Cannoli
Our most famous item, our homemade cannoli shells are mixed, rolled, and fried all by hand! Each cannoli shell is filled with our traditional sweet filling made with creamy ricotta and dusted with powdered sugar for a decadent finish.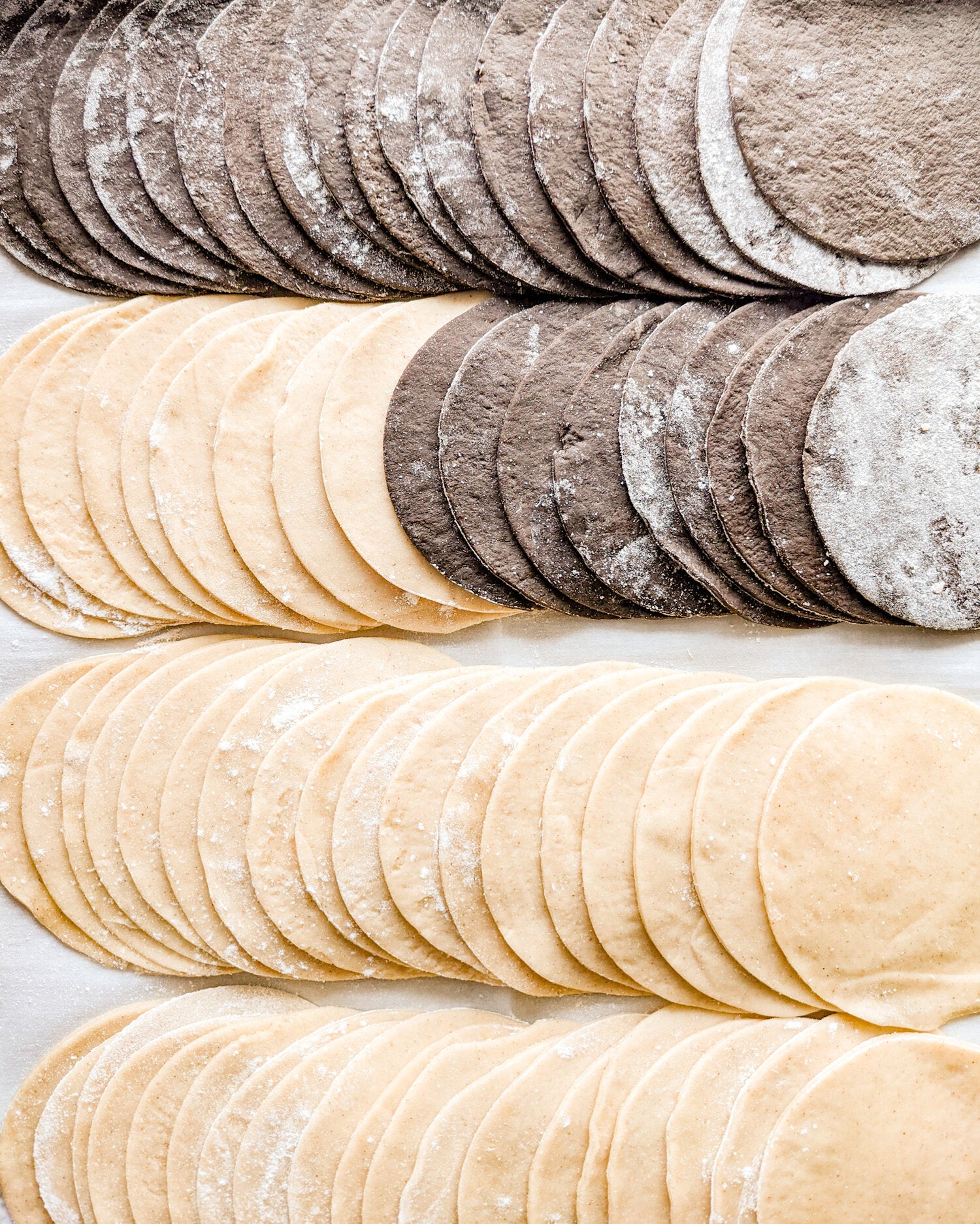 Our Shells
We start by mixing up our cannoli dough, which, like many traditional recipes, includes wine and vinegar to add flakiness to our pastry. By contrast, though, we include honey and butter for extra flavor. So unlike others you might have had before that only taste like greasy, fried oil, ours are tasty enough to stand alone (but c'mon, we know you're really here for the fillings). Since we make our shells by hand, we can also experiment with additions that add an extra layer to our flavors, like ground espresso or fresh rosemary.
Then, our dough is rolled so thin you can actually see light shine through the other side. Each sheet of pastry is cut, rolled, and shaped again before frying. We spend two days making, resting, and rolling our dough, and then it can take upwards of six hours to shape and fry a single batch of our shells — a true labor of love.
Once ready, each of our shells are dipped to order in chocolates, nuts, and more to make every cannolo extra decadent!
Our Fillings & Flavors
Each filling is mixed to order for each customer, every time — that's why our minimum order of each flavor is three (have you ever tried measuring just 1g of something? It's hard!).
To celebrate the high quality ricotta in our filling, we don't use tons of sugar to mask it's flavor. Our cannoli aren't overly sweet like some americanized versions of this Italian classic: we keep it simple and traditional.
We never use fake flavorings or imitation extracts in our cannoli, making sure you get only the best. With over 20 flavors to choose from, each is inspired by something we love. Our nutella cannoli is an ode to Nicole's husband - he's been eating nutella straight off the spoon for the better part of a decade and doesn't show signs of stopping. Or take our cinnamon honey latte cannoli, inspired by a trip to Savannah, where she had the best coffee and hasn't been able to forget it since.
We also love to surprise our customers with new and innovative flavors to mark special occasions, holidays, or highlight the season. Check out our full menu below to find your new favorite cannoli flavor!
Our Cannoli Menu
Classic

Our best-seller and most iconic. Filled with our traditional sweetened ricotta and semi-sweet chocolate chips, with a chocolate dip on both ends.

Classic

Nutella

Rolled in chopped, roasted hazelnuts and filled with a sweetened ricotta mixture lightly flavored with chocolate-hazelnut Nutella, and finished with a chocolate drizzle.

Nutella

Pistachio

Dipped in smooth white chocolate and rolled in crushed pistachio, and filed with sweetened ricotta & Sicilian pistachio.

Pistachio

Triple Chocolate

For our chocolate lovers, we bring you it to you in three ways: a crispy, dark chocolate cannolo shell is drizzled with bittersweet chocolate, then our ricotta filling gets an extra dose of cocoa and mini chocolate chips!

Triple Chocolate

Cinnamon Honey Latte

Inspired by a trip to a coffee shop in Nashville, we bump up the cinnamon and honey in our traditional cannoli and add a hint of espresso with a drizzle of white chocolate.

Cinnamon Honey Latte

Limoncello

Spring & Summer Seasonal

A bright, boozy twist on the traditional with limoncello, candied lemon, and white chocolate.

Cherry Blossom

March - April Special

This limited-run cannoli celebrates peak bloom season of cherry blossom trees in DC. A slightly floral, pink cherry filling with candied maraschino cherry pieces tucked inside a decorative shell with hand-drawn blooms.

Strawberry Shortcake

Spring & Summer Seasonal

Our pink-hued filling gets its color from real strawberries. Our shells are dipped in honey and coated in sweet ladyfinger crumbles.

Carrot Cake

Spring Seasonal

In-house roasted carrot puree, honey, warm spices, caramel, and toasted walnuts for our take on this ever-popular spring cake.
S'mores

Summer & Fall Seasonal

Real toasted marshmallow and dark chocolate chunks are folded into our vanilla filling. Our black cocoa shell gets a dip of chocolate and graham cracker crumbles.

Pecan Pie

Fall & Winter Seasonal

Caramel and toasted pecan topping, filled with sweetened ricotta and fresh pecan nut butter, molasses, and a hint of bourbon.

Pumpkin Chai

Fall & Winter Seasonal

Our take on pumpkin spice, with fresh pumpkin, black tea leaves, and warm chai spices, topped off with a cinnamon sugar dip and white chocolate drizzle.

Peppermint Chocolate

Winter Seasonal

Dark chocolate cannoli shell with a chocolate drizzle and a dusting of crushed peppermint candy, filled with peppermint-scented cannoli filling flecked with mini chocolate chips.

Gingerbread Butterscotch

Fall & WInter Seasonal

Rolled in caramel and crushed Noshy gingerbread butterscotch cookies, plus our sweetened ricotta filling with even more cookie crumbs, butterscotch pieces, and hints of ginger, cinnamon, allspice, and molasses.

White Chocolate Raspberry

Valentine's Day Special

Our ricotta gets a sweet pink hue from real raspberry, adding a romantic whimsy to our annual Valentine's Day special. This cannoli also features white chocolate chunks and a festive chocolate drizzle.

Irish Coffee

St. Patrick's Day Special

We're celebrating St. Patrick's Day with an espresso cannoli shell, Bailey's Irish Cream, and cheery green and gold sprinkles. Available through March.